Doctors & Staff
Meet the experienced and friendly doctors and staff who make Prosper Eye Room a proud provider of vision care products and services in Prosper.
---
Krystal Hoover, O.D.
Dr. Krystal Hoover is a Therapeutic Optometrist and Optometric Glaucoma Specialist in Little Elm and Prosper, Texas. Dr. Hoover is a Texas native and was raised in Lindsay, Texas. She completed her Bachelor of Science degree from Texas A&M University in College Station, Texas. She then went on to earn her Doctor of Optometry degree from Nova Southeastern University in Fort Lauderdale, Florida.
While in optometry school, she completed an externship at Braverman Eye Center which emphasized treatment and management of ocular disease and post-surgical co-management.
Dr. Hoover provides primary eye care and specialty contact lens fittings. She also treats eye diseases such as keratoconus, red eyes, diabetic retinopathy, glaucoma, macular degeneration, and dry eye. Dr. Hoover also provides pre and post-operative care for LASIK, PRK, and cataract surgery. She also provides myopia management services and orthokeratology.
Dr. Hoover is a proud member of the Texas Optometric Association, American Optometric Association, and American Academy of Orthokeratology and Myopia Control. She enjoys spending time with her husband John, daughter Madelyn, attending Aggie football games, and going fishing.
Dr. Hoover established Eyes on Little Elm in 2020 and acquired Prosper Eye Room in 2023. She is dedicated to providing the highest quality eye care to the patients of Little Elm, Prosper, and surrounding areas of Texas.
---
John Hoover
John Hoover is the Manager at Prosper Eye Room and Eyes on Little Elm. John is a Florida native and was raised in Fort Lauderdale. He attended Nova Southeastern University and earned his Bachelor of Science in Business Administration in Marketing, with honors. While obtaining his degree, John served as an office manager at The Eye Care Institute at Nova Southeastern University.
He has years of experience in the Optometry field and is responsible for operations here at Prosper Eye Room and Eyes on Little Elm. John also handles marketing and patient satisfaction.
John enjoys spending time with his wife Dr. Krystal Hoover, their daughter Madelyn, and their cat, Cali. He also likes sports and fishing.
---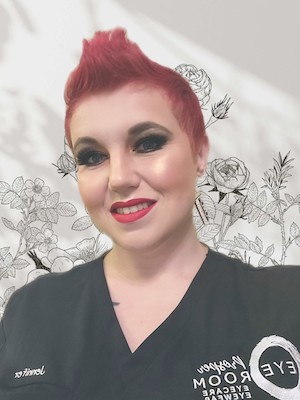 Jennifer Gonzales
Jennifer Gonzales is an ABOC Optician with over a decade in optical experience. She loves music, family time, and reading. She's a two-time Hodgkin's Lymphoma Survivor and believes in using her experience to educate and inspire those around her.
Patient care is of the utmost importance to this self-proclaimed "optical nerd." Jennifer believes working in optometry is a gift that should be shared and loves improving the quality of patients' vision and style.
---